HP Deskjet 1050 Inkt cartridge
Is het tijd om nieuwe HP Deskjet 1050 inkt aan te schaffen? Dan moet je bij Goedkoopprinten zijn. Wij bieden cartridges aan in alle soorten en maten, dus ook de HP 1050 inktpatronen. Lees hieronder meer over de voordelen van Goedkoopprinten.
Hieronder vind je het overzicht van alle HP Deskjet 1050 inkt cartridges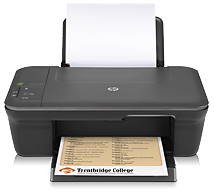 HP 1050 inkt huismerk
Goedkoopprinten biedt HP 1050 inktpatronen aan van het originele merk van HP, maar je vindt bij ons ook je cartridge van HP 1050 van ons huismerk. Deze HP 1050 inkt is voordeliger dan het originele merk én bevat meer inkt. Onze huismerken zijn speciaal gemaakt om te gebruiken in jouw HP printer. Nog een voordeel van ons huismerk: je krijgt levenslange garantie, gratis verzending vanaf €35 en ben je niet tevreden? Dan krijg je het bedrag volledig terug. Pak daarom je voordeel met ons huismerk.
Huismerk HP voordeelset
Welke kleuren wil je printen met je HP 1050 inktpatronen? Bij Goedkoopprinten kun je terecht ons voor kleurinkt, zwart of allebei. En dat in een voordeelset van ons huismerk. Bijvoorbeeld de HP 301XL kleur of de HP 301XL zwart. Liever allebei? Dat kan, ga dan voor HP 301XL multipack. En dat in een extra grote verpakking dankzij ons huismerk.
HP 1050 printer
Met de HP 1050 inktjet printer druk je haarfijn professionele foto's en documenten af op je papier. Met deze printer kunn je kopiëren, scannen en kleuren printen. Dankzij de mooie uitstraling past deze printer perfect in elke hoek van je woonkamer of kantoor.
Service Goedkoopprinten
Goedkoopprinten staat graag voor je klaar om je te voorzien HP Deskjet 1050 inkt. Wij zijn 24/7 bereikbaar, hebben snelle service en hanteren 100% 'niet goed, geld terug' garantie. Ook als je in België woont, komen wij graag bij je langs om HP 1050 inktpatronen te bezorgen. Heb je nog vragen over cartridges? Neem dan gerust contact met ons op, want wij helpen je graag.